Bio-Defense Network is proud to have played a leading role in creating a Closed Point of Dispensing at Saint Louis University that will be activated in the event of a bio-terrorism attack to the region.  The university expects to distribute about 50,000 courses of life-saving medication to students, employees and dependents.
An important innovation we introduced was the use of university nursing students who received special state-approved Closed POD training that we presented alongside local public health officials.  Having completed that training, those students are qualified under state law to distribute medications during an SNS emergency, even before they graduate.  More than 100 students were trained and are now qualified to support the university's efforts in the event of an attack.  This will become an annual effort and has been written into the curriculum for the School of Nursing.
Public health officials recognize the value of establishing Closed PODs, and that's one of our specialties, so we are pleased to offer this innovative approach to others around the country who have schools of nursing in their communities.  We welcome the opportunity to help others expand their Closed POD networks, and offer no-cost, no-obligation telephone consultations to all who are interested in learning more.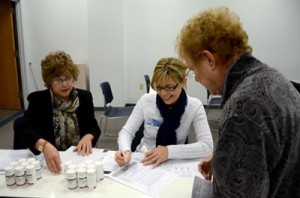 School of Nursing faculty Sheila Leander, Ph.D., assistant professor of nursing, left, and Ashley Schmuke, instructor of nursing give medicines to Debbie Sanazaro, associate professor of nursing, who is posing as a patient in a training exercise that teaches faculty to dispense life-saving medication to the SLU community, in case of a bioterror attack. Photo by Riya V. Anandwala
Here's the university's story, which was released today:
Student Nurses, Faculty Train to Protect SLU Community in Case of Bioterror Event
Saint Louis University students, faculty, staff and their families will receive convenient access to medications in case of a bioterror attack, thanks to SLU nursing faculty and students.
The University will operate a medication dispensing station exclusively for members of the SLU community and their families that will be activated in case of a public health emergency. This center will help free up the city and county health departments to serve residents who don't have similar access to lifesaving medications.
Complete story may be found at http://www.slu.edu/x89900.xml